ODM Floor Standing Bluetooth Tower Speaker From China





| | |
| --- | --- |
| Categories | Floor Standing Speakers |
| Brand | AUSMAN Audio Speaker Manufacturer and Supplier |
| Model | AS-PS25 |
| Business Type | Wholesale/Custom |
| Drive Unit | 6*10" Woofers + 4x2.5" Tweeter |
| Material | Wooden |
| Power | 300W |
| Power Supply | 220-240V 50Hz/60Hz |
| Function & Connectivity | Bluetooth/USB/SD/FM/Aux/Mic |
| Certification | BSCI/FCC/CE/ROHS/REACH ext. |
| Packing | PE Bag+Carton |
| Place of production | China |
| FOB port | Guangzhou/Shenzhen |
| Terms of Payment | L/C, T/T |
| Update Time | Dec 9,2023 |
Your Leading Supplier For Floor Standing Bluetooth Tower Speaker In China

Floor standing Bluetooth tower speaker AS-PS25 is an eye-catching ODM audio product imported from China.
It is equipped with advanced audio technology and DISCO lighting system.
AS-PS25 provides clear and realistic sound performance.
This 2.0 Speaker System can provide you with unforgettable sound and lighting feasts whether listening to songs, watching movies or holding a party.
6*10"

Woofer

4*3"

Tweeter

LEDs

Feature

 300W

Power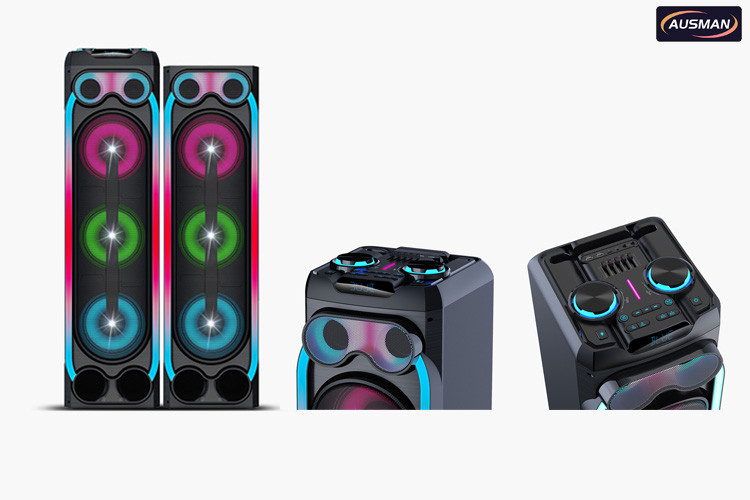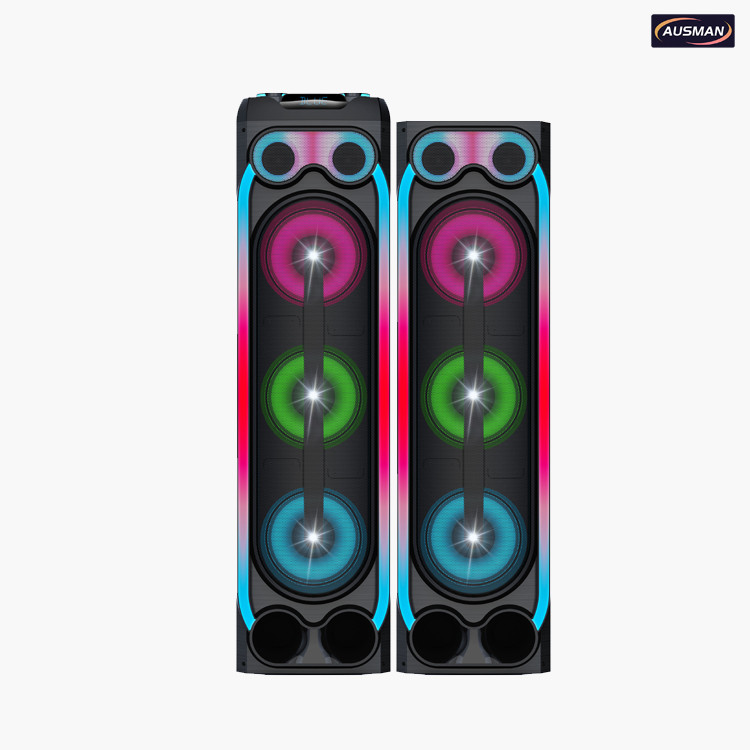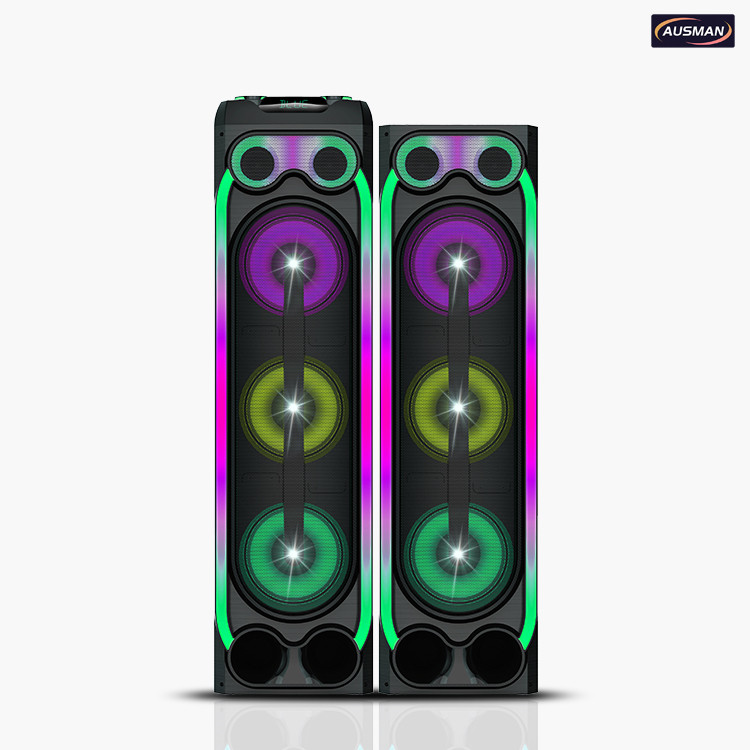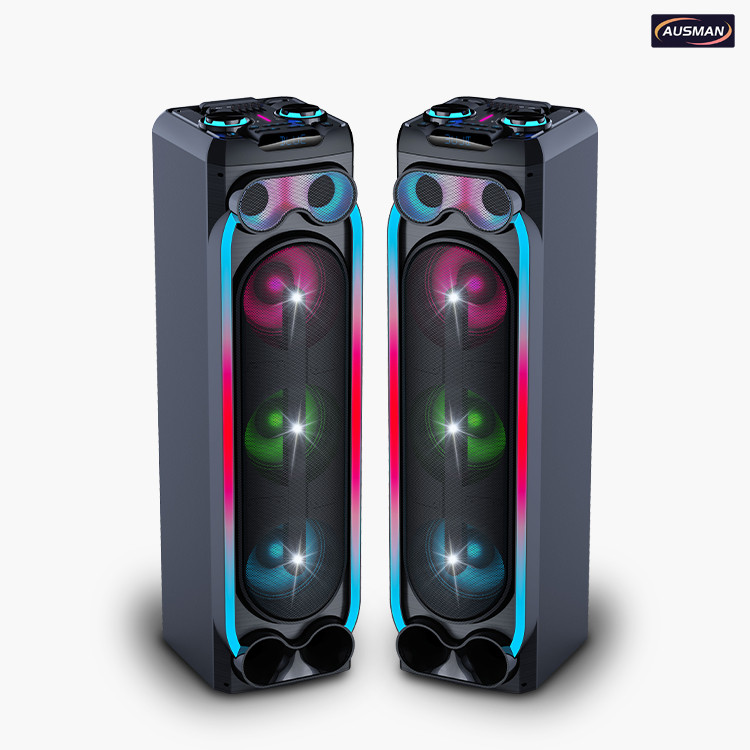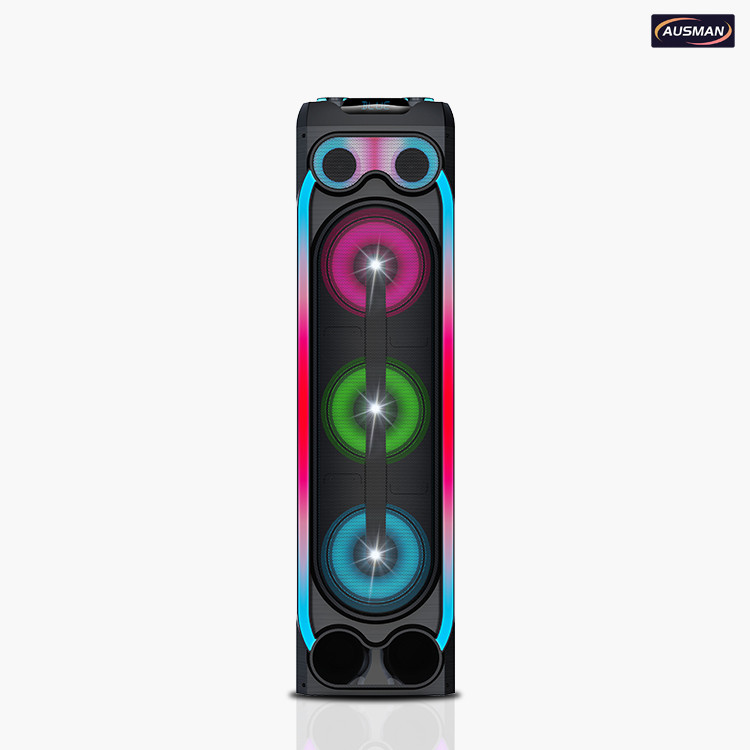 ODM Manufacturing For Your Marketing
l 
AUSMAN Audio is an ODM speaker manufacturer from China.
l 
We have customized differentiated audio equipment for more than 10 years.
l 
We offer customization of AS-PS25 that can meet your local needs.
l 
Logo, sound, appearance, and all other performances can be realized for you.
l 
What you need to provide is just the idea.
Make a Sonic Impact & Transform Your Gatherings
| | |
| --- | --- |
| | |
| Speaker Type | 2.0 Karaoke Speaker System/2.0 DJ Speakers System |
| Accessories | Adapter, user manual, remote control, wireless microphone*2(optional) |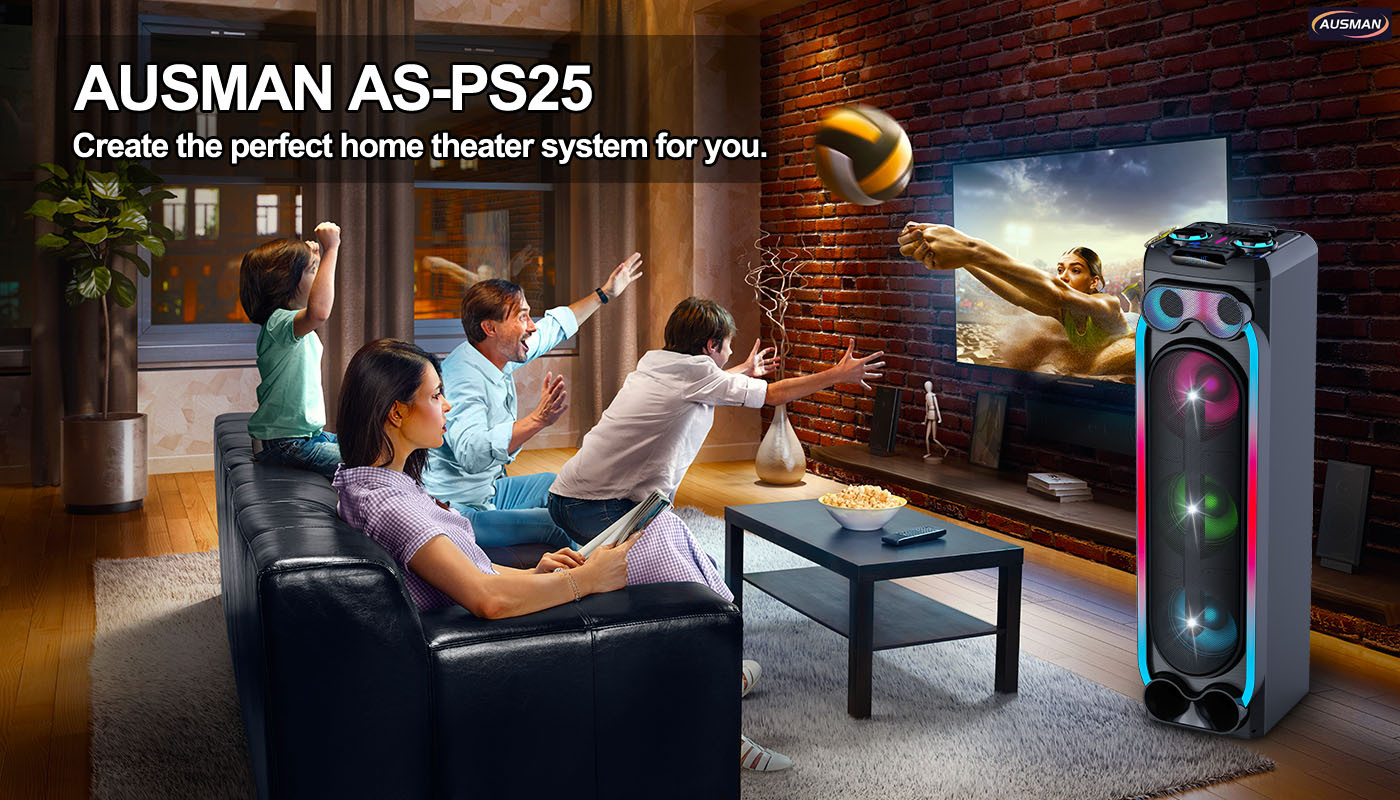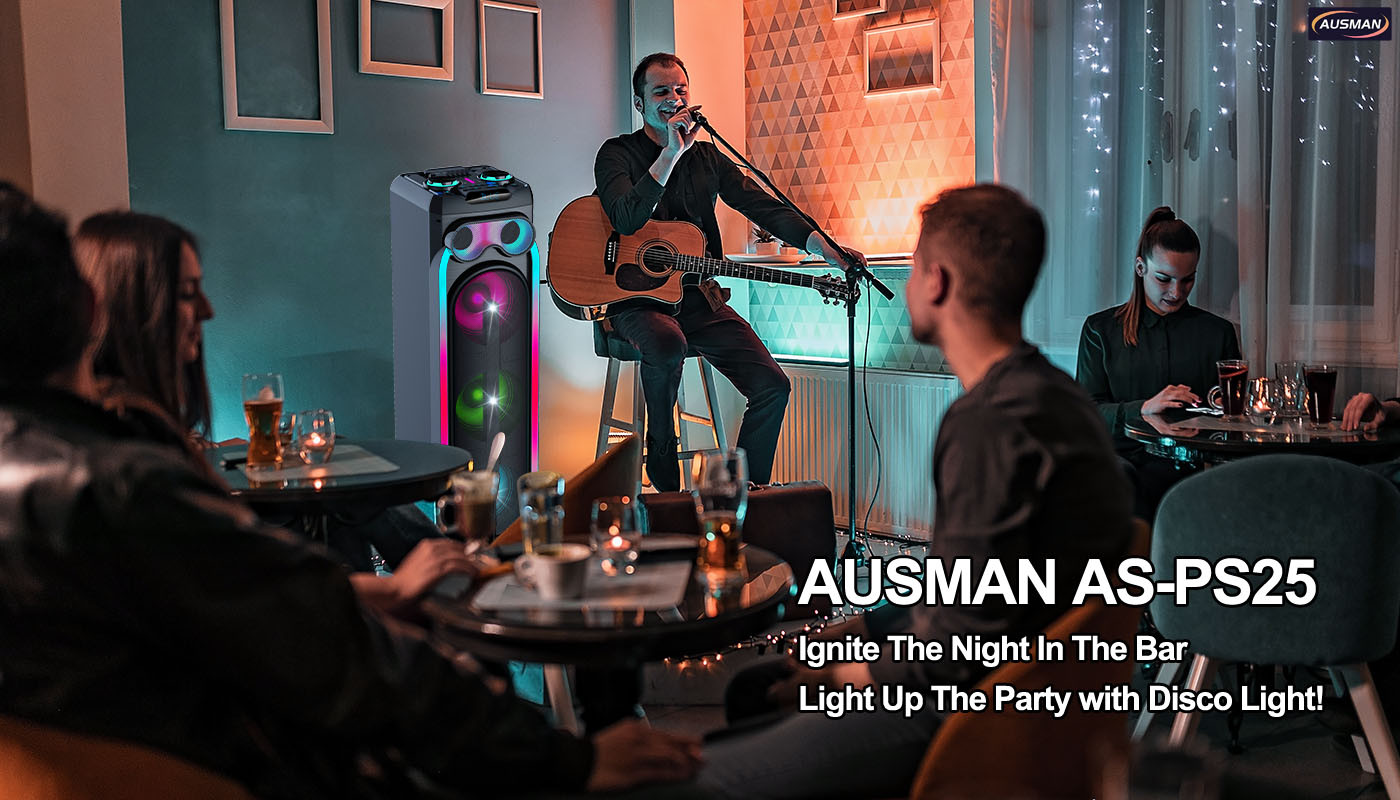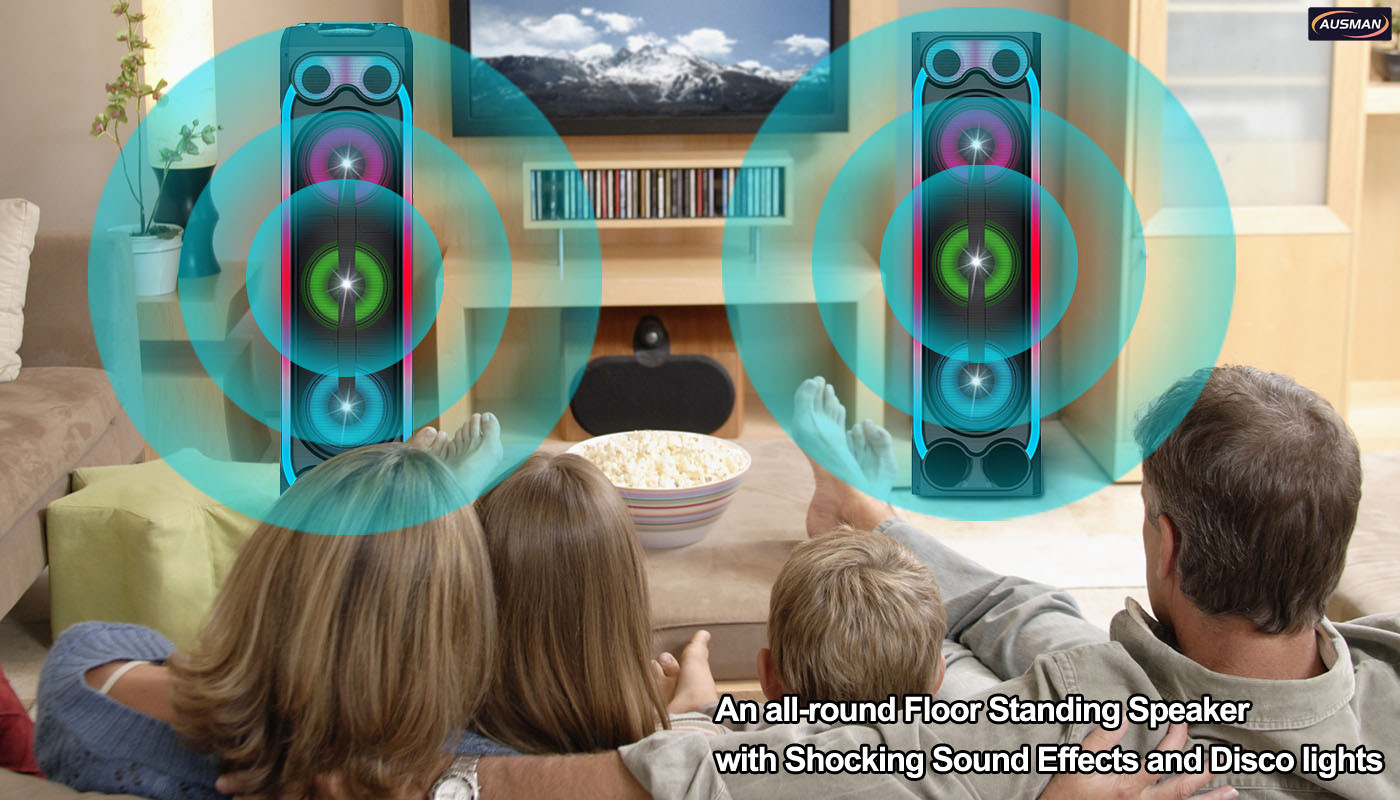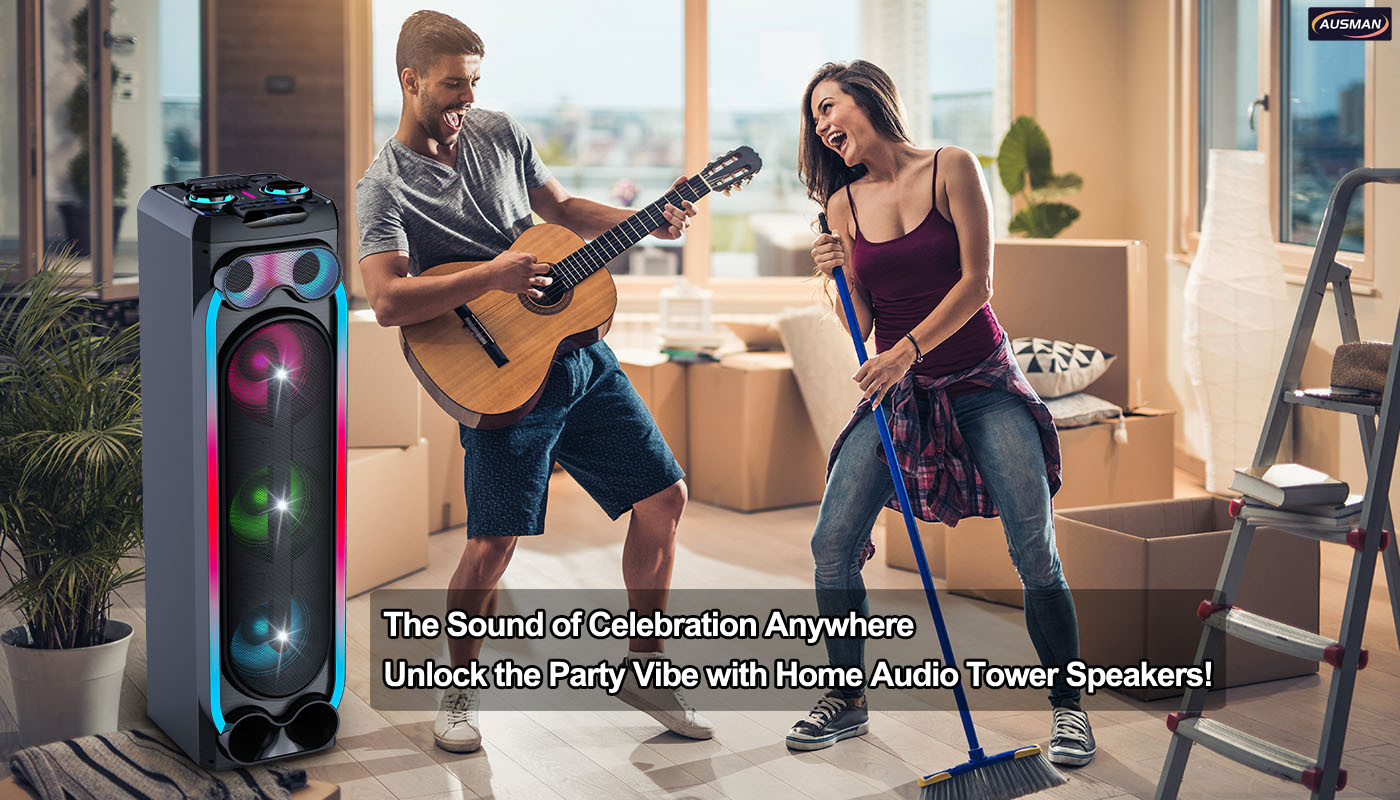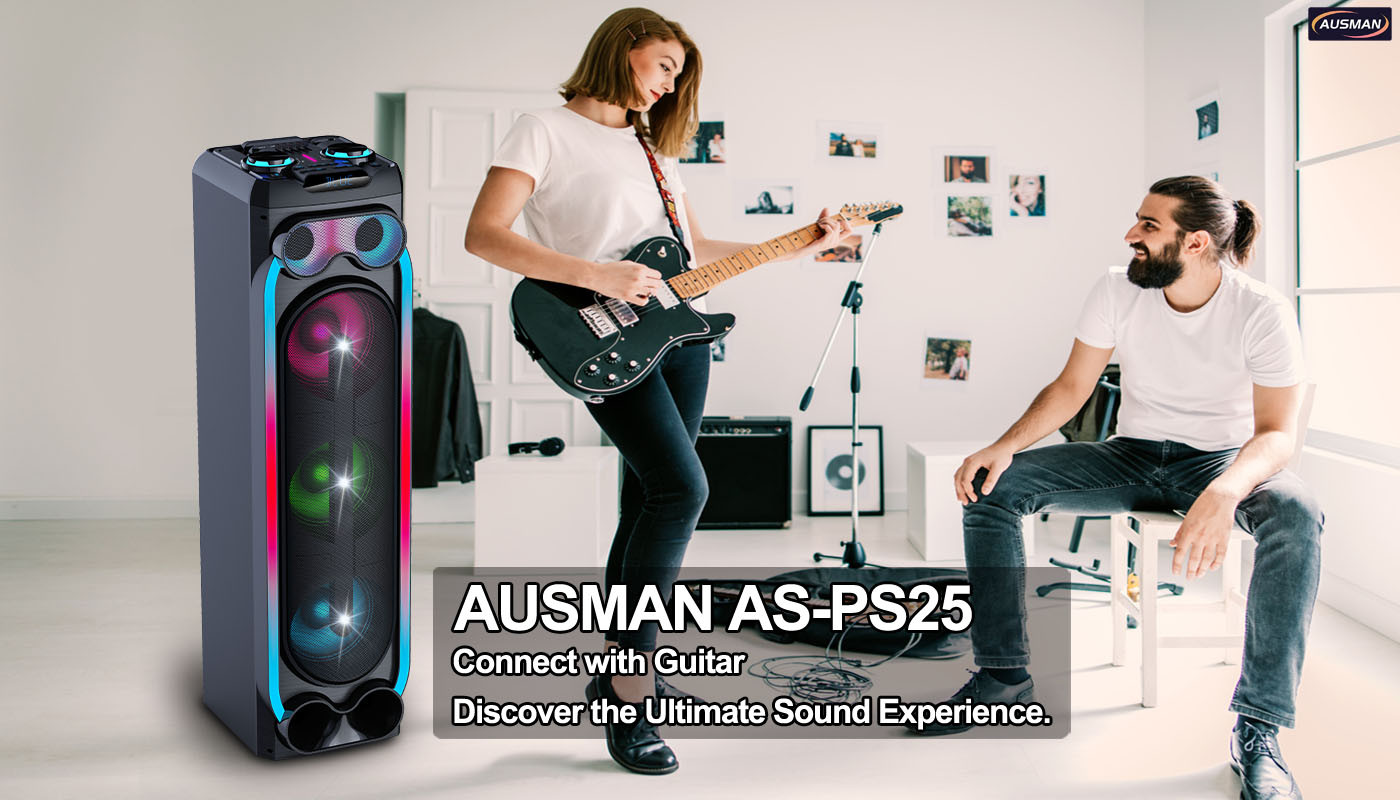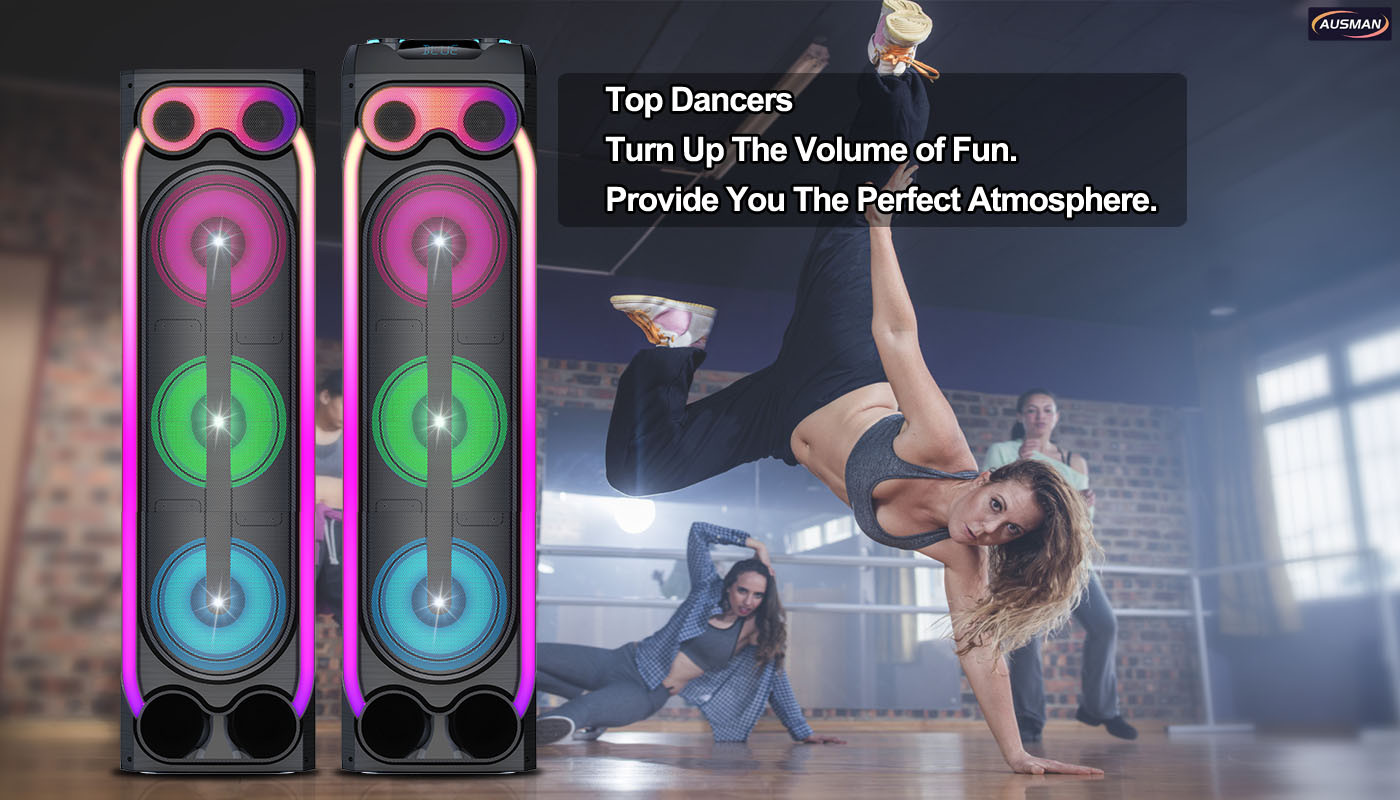 Let's drive into this 2.0 Karaoke Speaker System
l 
Good Sound Starts With High-quality Materials
Overall size: main box 330*370*1250 mm, auxiliary box: 330*370*1195 mm.
The main box is assembled with MDF, and the front face and top are covered with iron mesh and ABS plastic.
The MDF speaker cabinet can effectively reduce resonance.
The iron mesh and plastic can not only protect the speakers but also play a decorative role.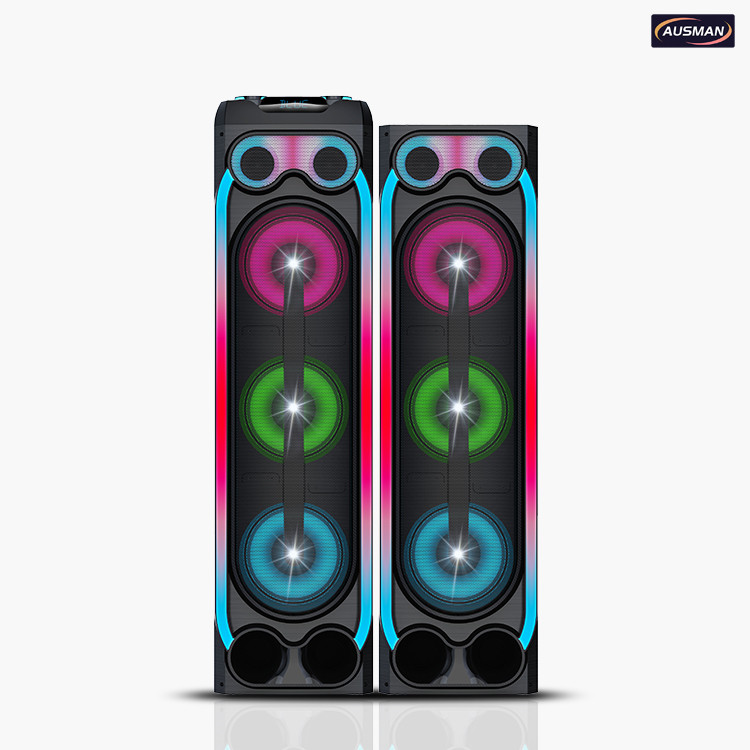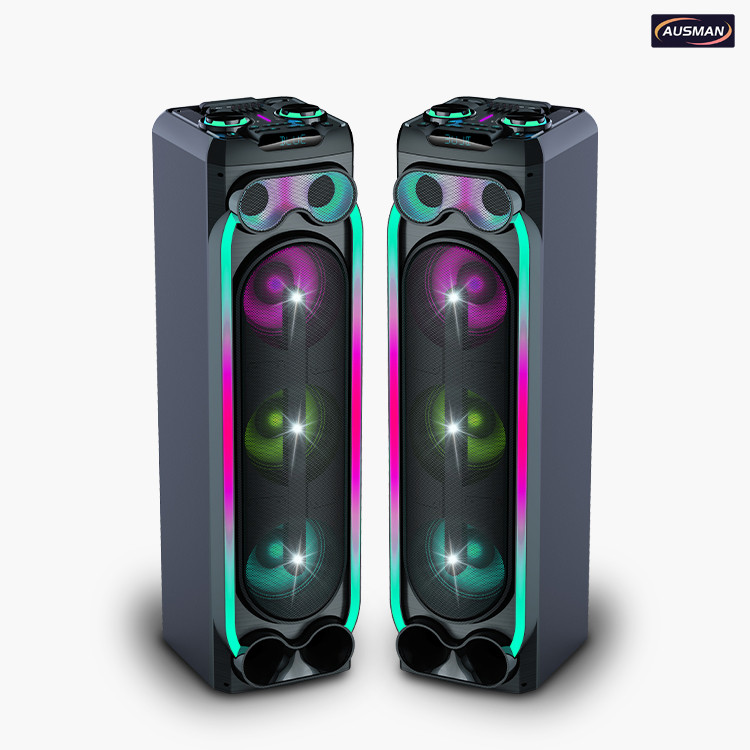 l 
600 Watts: Bluetooth Tower Speaker with Powered Subwoofer
Why can AUSMAN AS-PS10 bring you a shocking sound experience?
Let's take a look at its parameters:
l 
Power: 300W(R.M.S), 600W(P.M.P.O)
l 
Drivers: 4x12"Woofers +4x3"Tweeters
These basic parameters ensure that it performs well in a variety of environments.
l 
Wireless Bluetooth and 6 Input Options
Floor standing speaker AS-PS25 is equipped with Bluetooth function, which allows you to connect various Bluetooth devices wirelessly.
You can easily play your favorite music and streaming services.
It also has 6 other input options: USB/SD card reader/3.5mm AUX input/6.5mm microphone/guitar input/FM radio.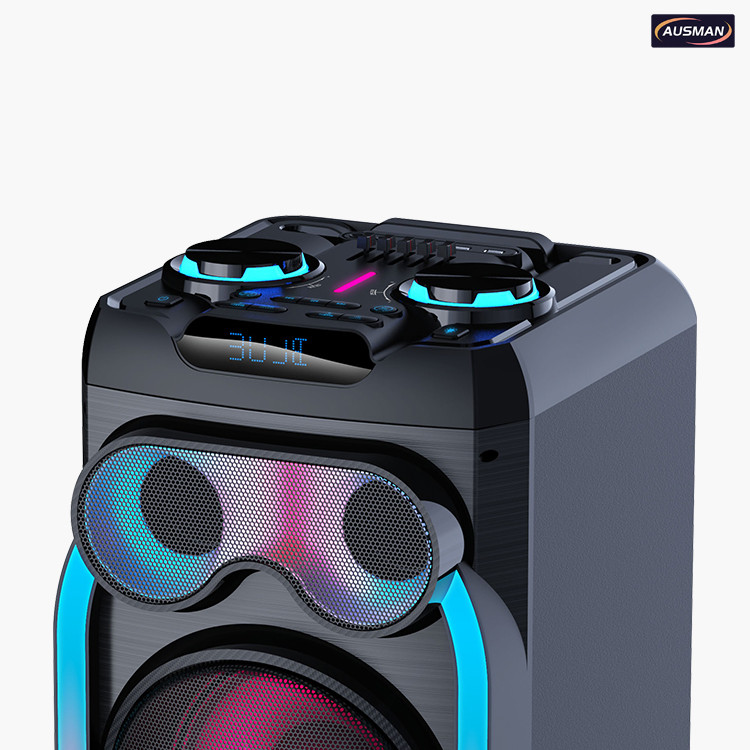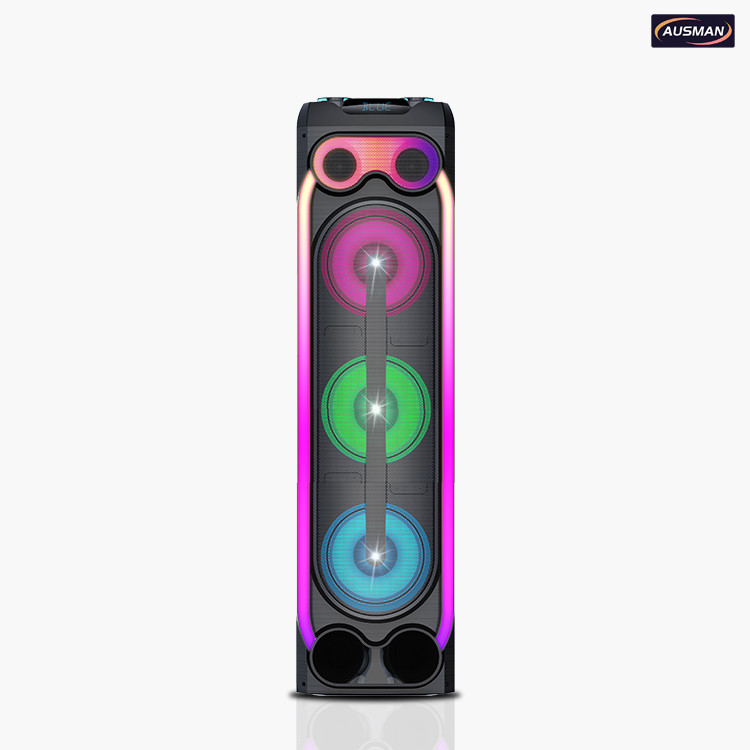 l 
Floor standing Bluetooth Tower Speaker with Gorgeous Disco Lights
The main color of this model is black.
It has built-in multiple colored LED lights, including colored backlights for panel knobs.
When we turn on the LED switch, the main box and the auxiliary box immediately form a beautiful DISCO lighting effect.
We can present a colorful light show according to the rhythm and beat of the music.
These light effects will add a unique ambiance to your party, gathering, or outdoor event and get everyone excited.
l 
Multifunction Control Panel
The top control panel of AUSMAN AS-PS25 provides a simple and intuitive operation.
You can easily adjust the volume, switch tracks, pause/play music, and adjust sound settings.
In addition, the control panel features lighting control options that allow you to customize and adjust lighting effects.
No matter warms the party atmosphere or creates a romantic environment. It can easily realize your ideas.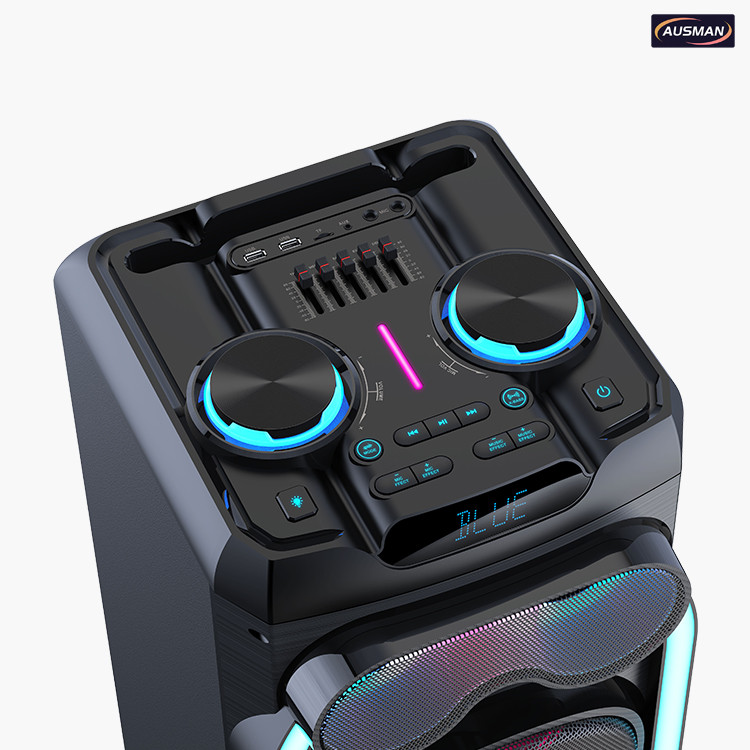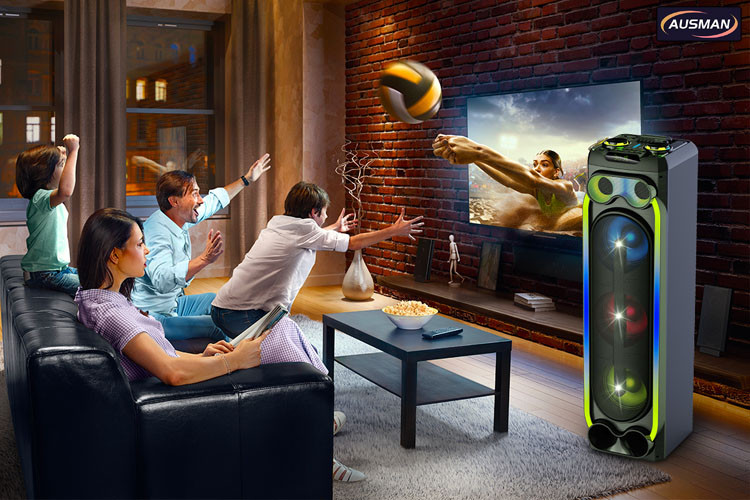 l 
Powered Home Audio Tower Speaker AS-PS25
Besides excellent sound effects, this home theater floor standing tower speaker also provides a variety of connection options, allowing you to easily connect with various devices wirelessly or wired.
Its DISCO lighting effects add more fun to your parties and gatherings.
While the convenient top control panel enables you to easily adjust music and lighting settings.
The powered functions will impress your customers and enlarge your business.
Where can we use this Wireless Floor Standing Speaker?
It is a wireless speaker system, so we can use it in many places, and it is very convenient.

Whether it's a family gathering, party or outdoor event, AUSMAN AS-PS25 is the perfect companion for creating a musical frenzy.
In terms of sound quality, connectivity, or lighting effects, this model is an impressive audio product.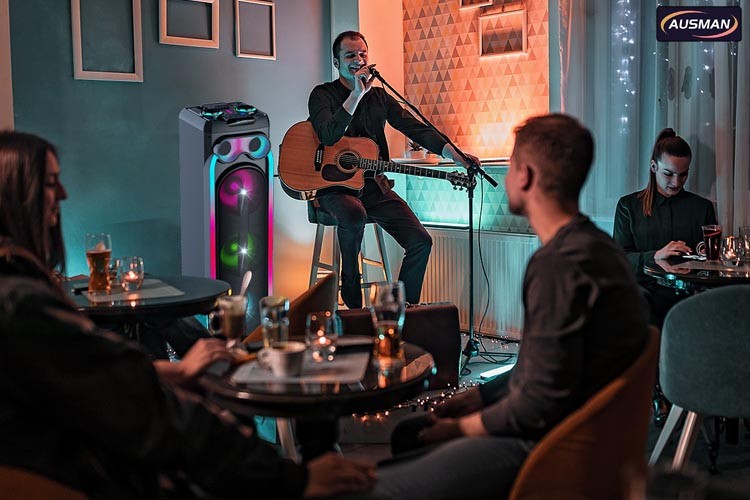 Bar audio equipment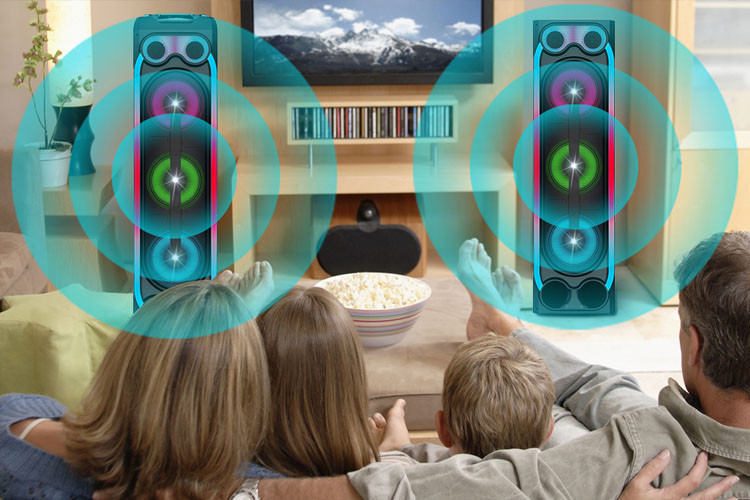 TV audio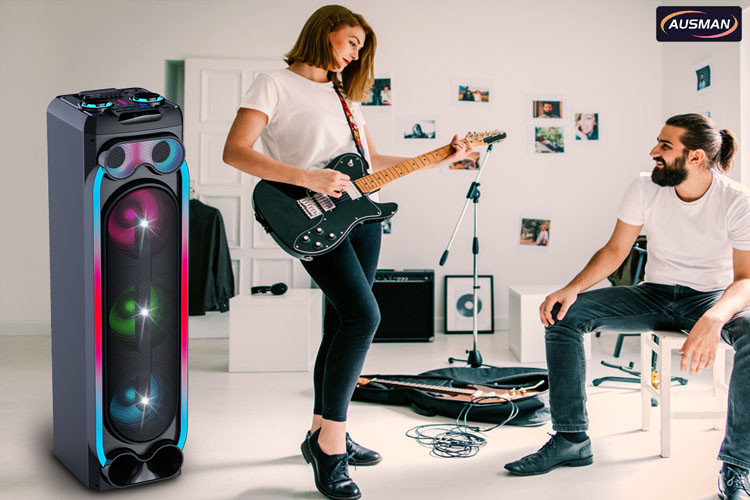 Couples create atmosphere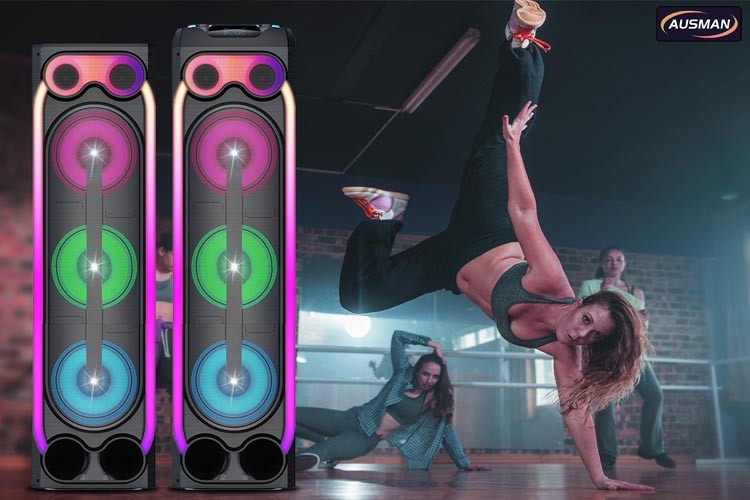 Practice room sound equipment
Best Floor standing Bluetooth Tower Speakers

In our opinion, the best floor-standing Bluetooth tower speaker is one that has certain features that make it better than its peers.
These characteristics may include the 7 points below.
The suggestions can help you when you choose floorstanding Bluetooth speakers.
1.Excellent Sound Quality

It should provide clear and balanced audio performance, with a wide frequency response range and good audio resolution to ensure a high-quality music playback experience.
2.High Fidelity
It should deliver powerful sound on large rooms or outdoor spaces without distortion or weakening.
3.Easy Connection and Wide Compatibility
It needs to support multiple connection methods, including Bluetooth, Wi-Fi, wired, etc., in order to be compatible with various audio source devices.
This way people can easily use it on different occasions.
4.Various Comprehensive Functions
It can have various functions, such as a built-in mixer, radio, audio input/output interface, etc.
People can switch between different purposes at will, such as playing music, karaoke, giving speeches, listening to radio news, etc.
5.Attractive Design and Appearance
Attractive appearance and high-quality production quality can directly impress consumers.
At the same time, it can also be able to coordinate with the home environment or office space.
6.Good Operability and User-friendliness
It should provide an easy-to-use control interface and operation, allowing users to easily enjoy music and other audio content.
7.Good Brand Reputation
The success of well-known brands comes from the good evaluation of a large number of users.
The best audio model review criteria, as it pertains to personal music preferences and specific needs.
But we believe that there may not be the best in this world, but there must be the most suitable.
The above summary can help people who are choosing such speakers.
If you need more details, don't hesitate to get in touch with AUSMAN Audio engineers.
Reply your inquiry in 24 working hours.(our normal working time:6:00~22:00)

Experienced staffs answer all your questions in time.

Customized design is available.

Exclusive and unique solution can be provided to our customer by our well-trained and professional engineers and staff.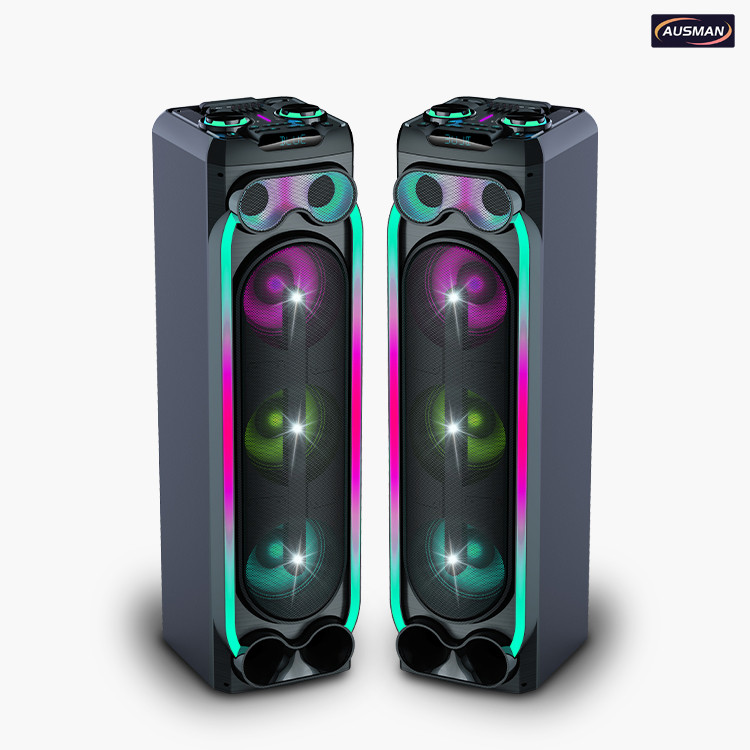 If the above models are not suitable for your workpiece, please contact us to tell us your needs, then can we send you the most satisfactory answer
Are you looking for professional OEM/ODM speaker manufacturing services? Ausman offers a wide range of speakers and solutions.
Send Your Inquiry ?

Tel:

86-18613169271
Email:
WhatsApp:
Address:

B2 NO.41 Furong Avenue, Huadu District, Guangzhou, China