AS-219 Portable Pro Speaker System From China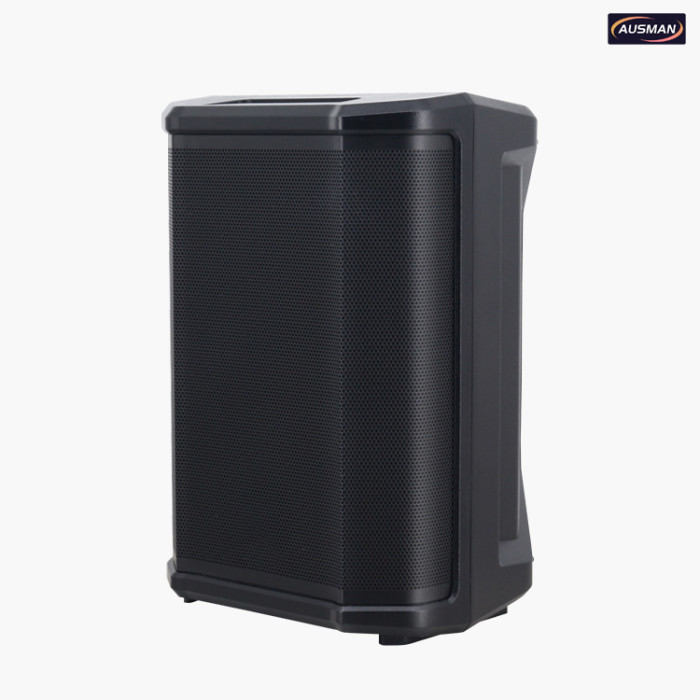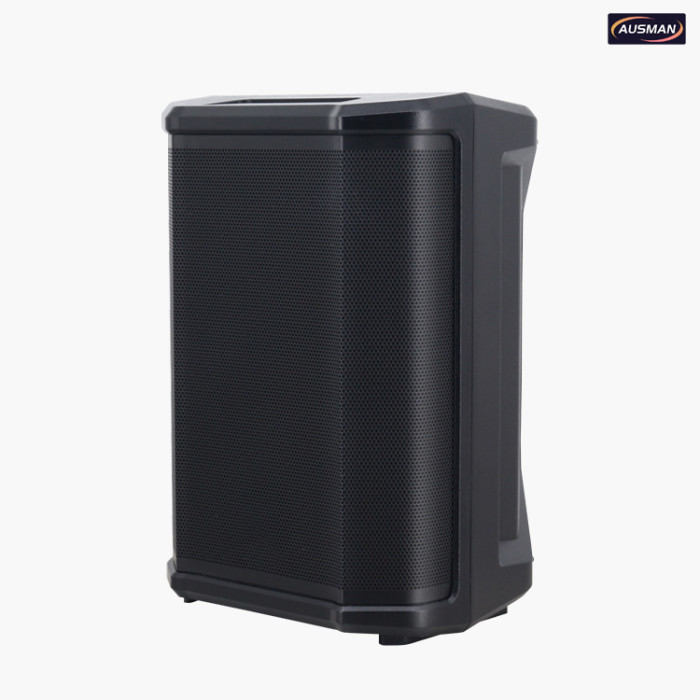 | | |
| --- | --- |
| Categories | Custom Pro & PA Speakers |
| Brand | AUSMAN Audio Speaker Manufacturer and Supplier |
| Model | AS-219 |
| Business Type | Wholesale/Custom |
| Drive Unit | 1*8″ Woofer+Tweeter |
| Material | Plastic ABS |
| Power | 150W |
| Battery | 14.8V/6000mAh Lithium Battery |
| Function/Connectivity | USB/SD/FM/Aux/Mic/Bluetooth |
| Certification | FCC/CE/ROHS/REACH ext. |
| Packing | PE bag+carton |
| FOB port | Guangzhou/Shenzhen |
| Terms of Payment | L/C, T/T |
| Update Time | Dec 9,2023 |
Your Leading Supplier For 8-inch Portable PA Speaker In China

AS-219 is an 8-inch portable Pro PA speaker system with a built-in battery, which is made in China and wholesale globally.
AS-219 has a fashionable shape and durable ABS shell, and the manufacturer AUSMAN provides two custom colors: Black and Green.
It was designed and developed by AUSMAN China, the only one in the world. It is also a high-quality multi-function PA system.
8"

Woofer

6h

Battery Life

Live

Feature

 6.95kg

Weight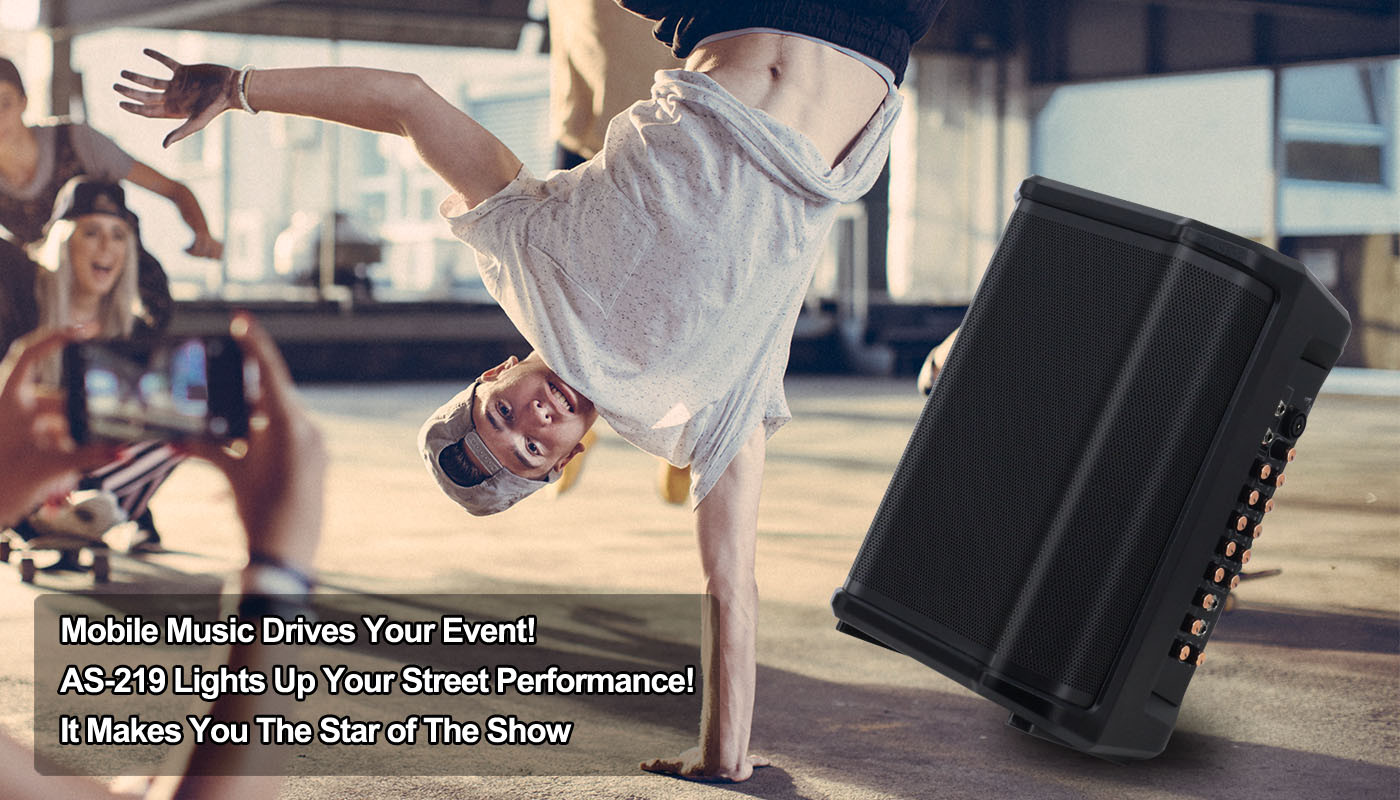 AUSMAN AS-219 R&D Process

From design to final products and production, all are completed and optimized by Ausman Team.
The Whole Project Lasted for one Year and the total cost is over 100,000 us dollars.
We support ODM production or custom services: Logo, Color, Sound Plan, or Battery Plan.
| | |
| --- | --- |
| | AS-219 |
| Speaker Type  | Pro Speaker System/Woofer |
| Accessories | Adapter, user manual, remote control, wireless microphone*2(optional) |
| Place of production | China |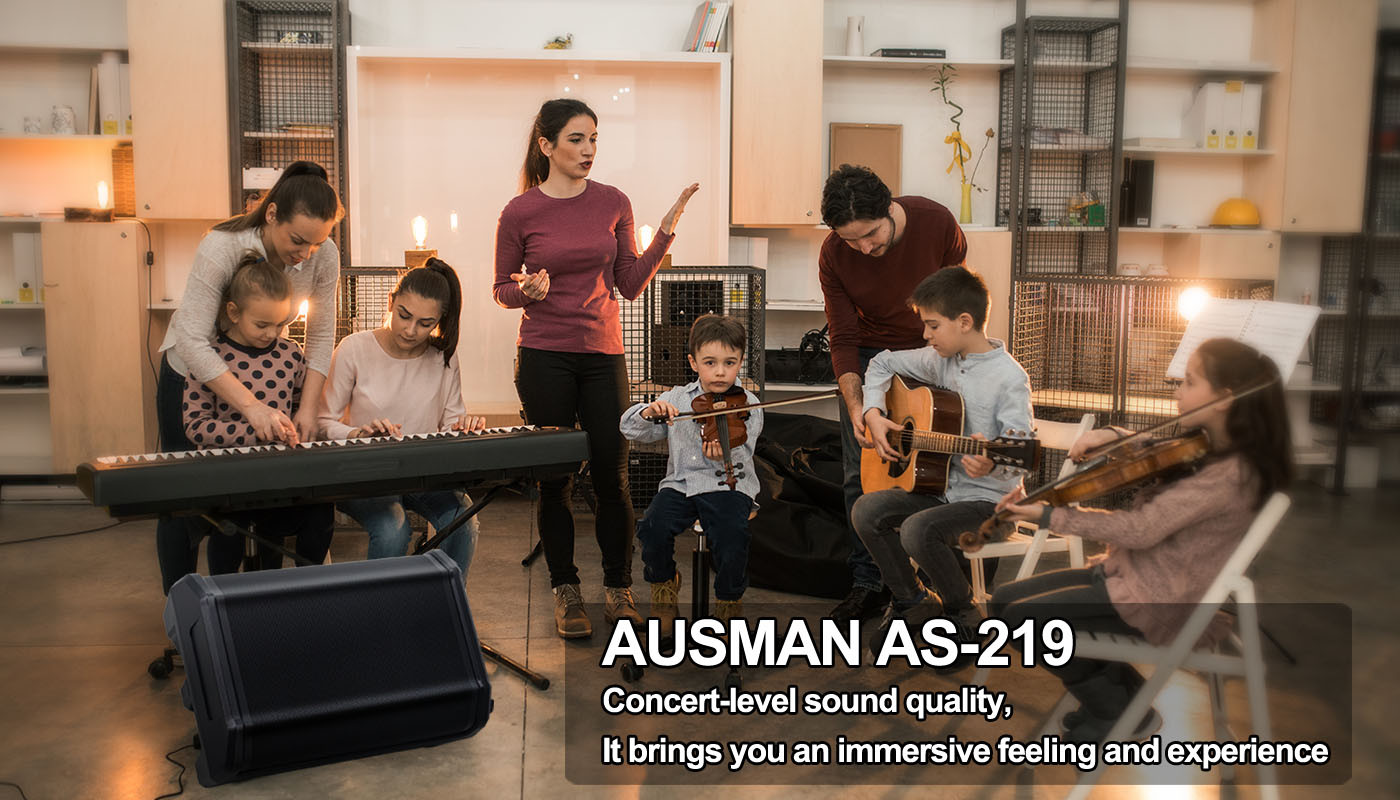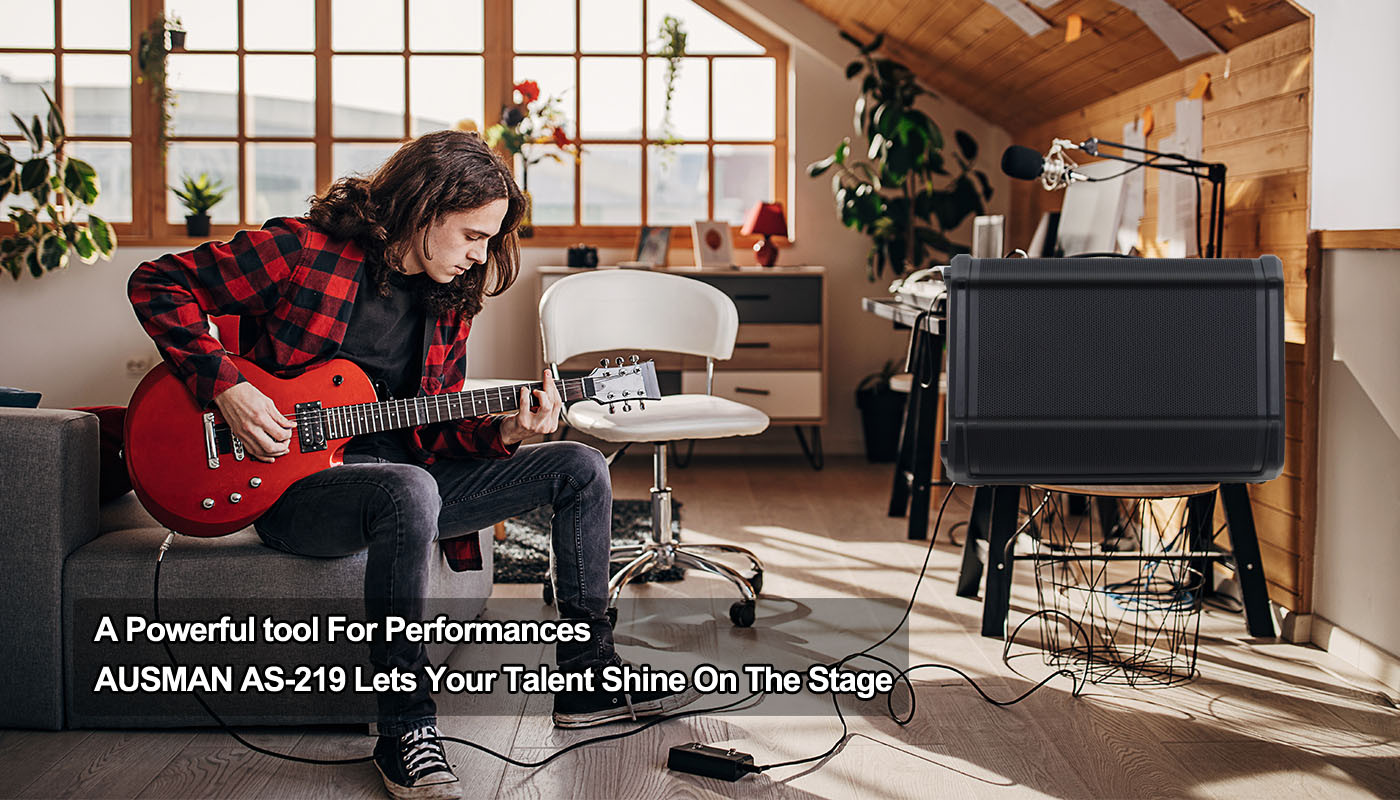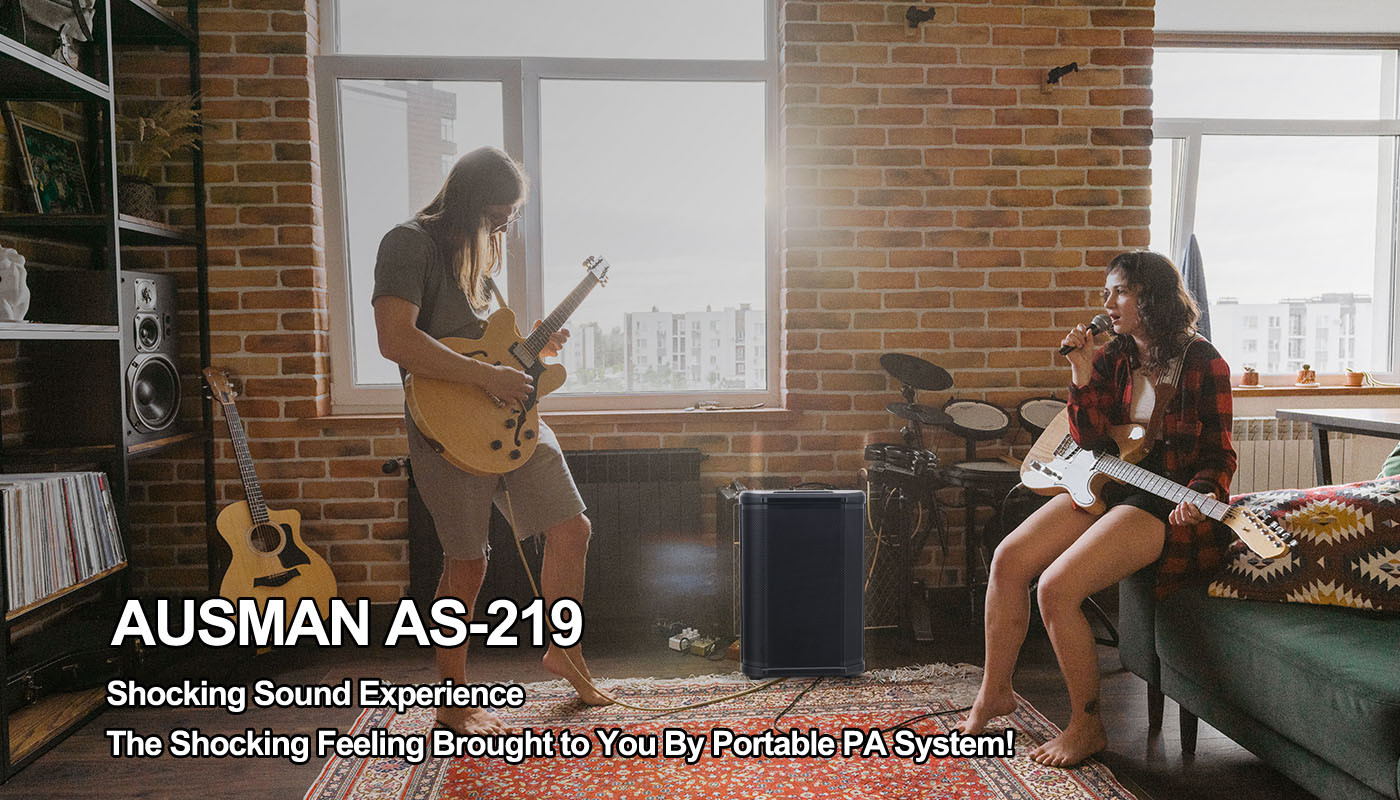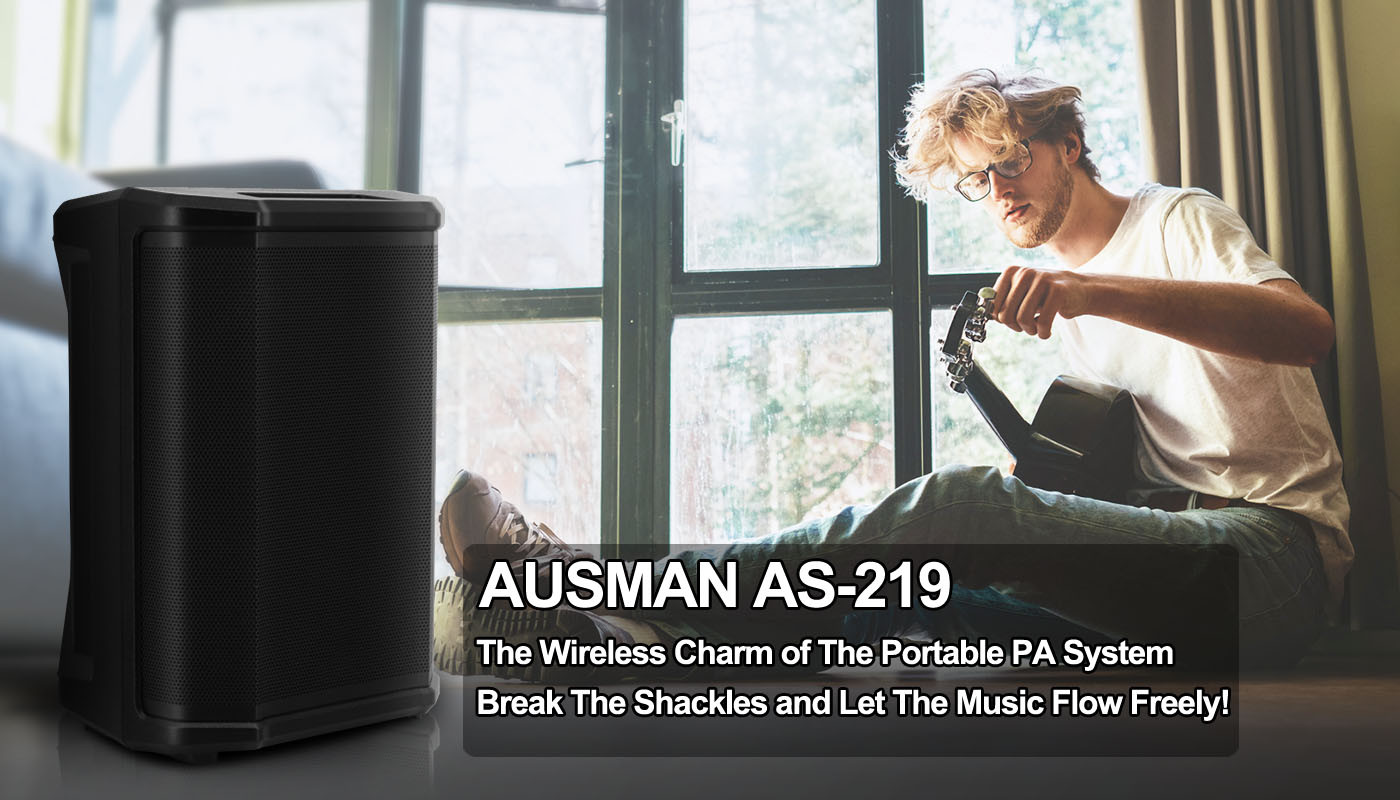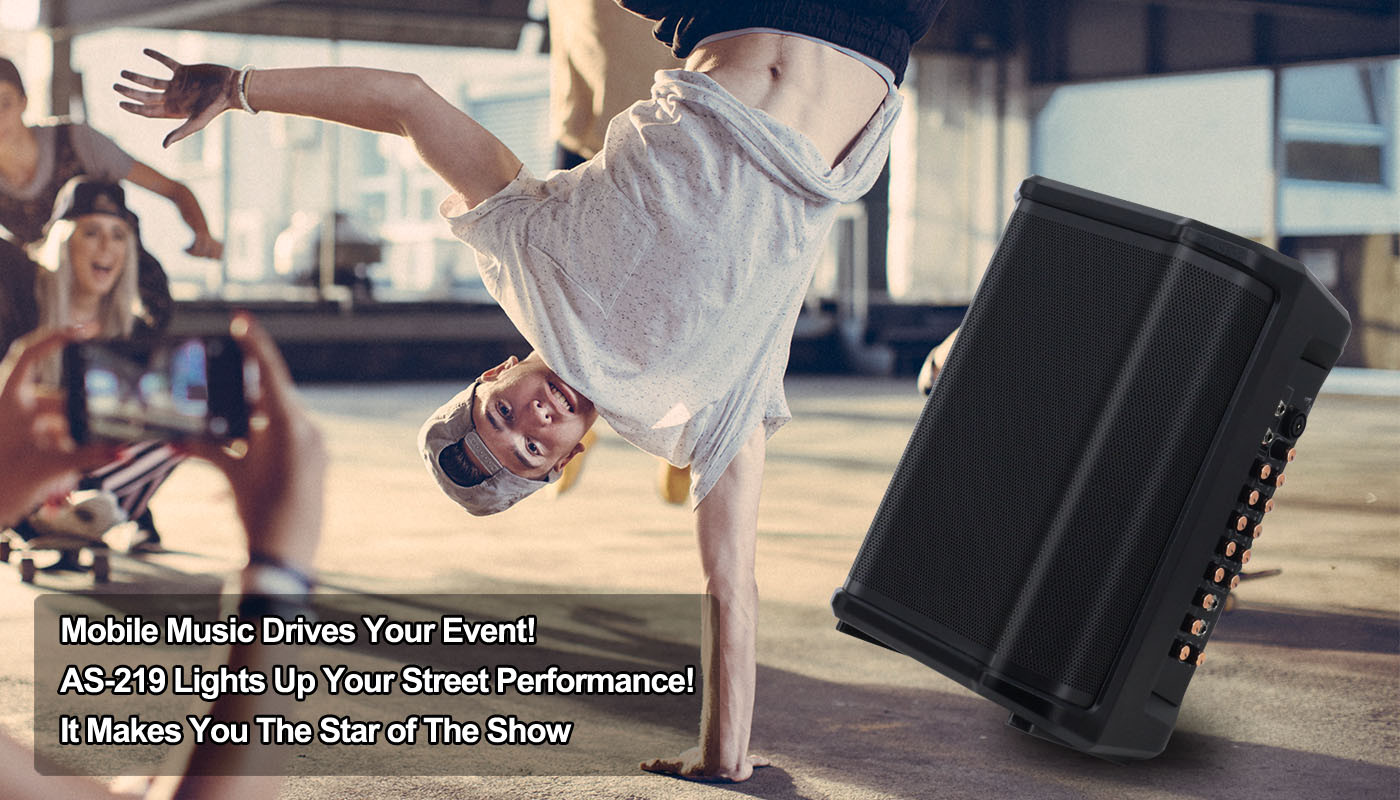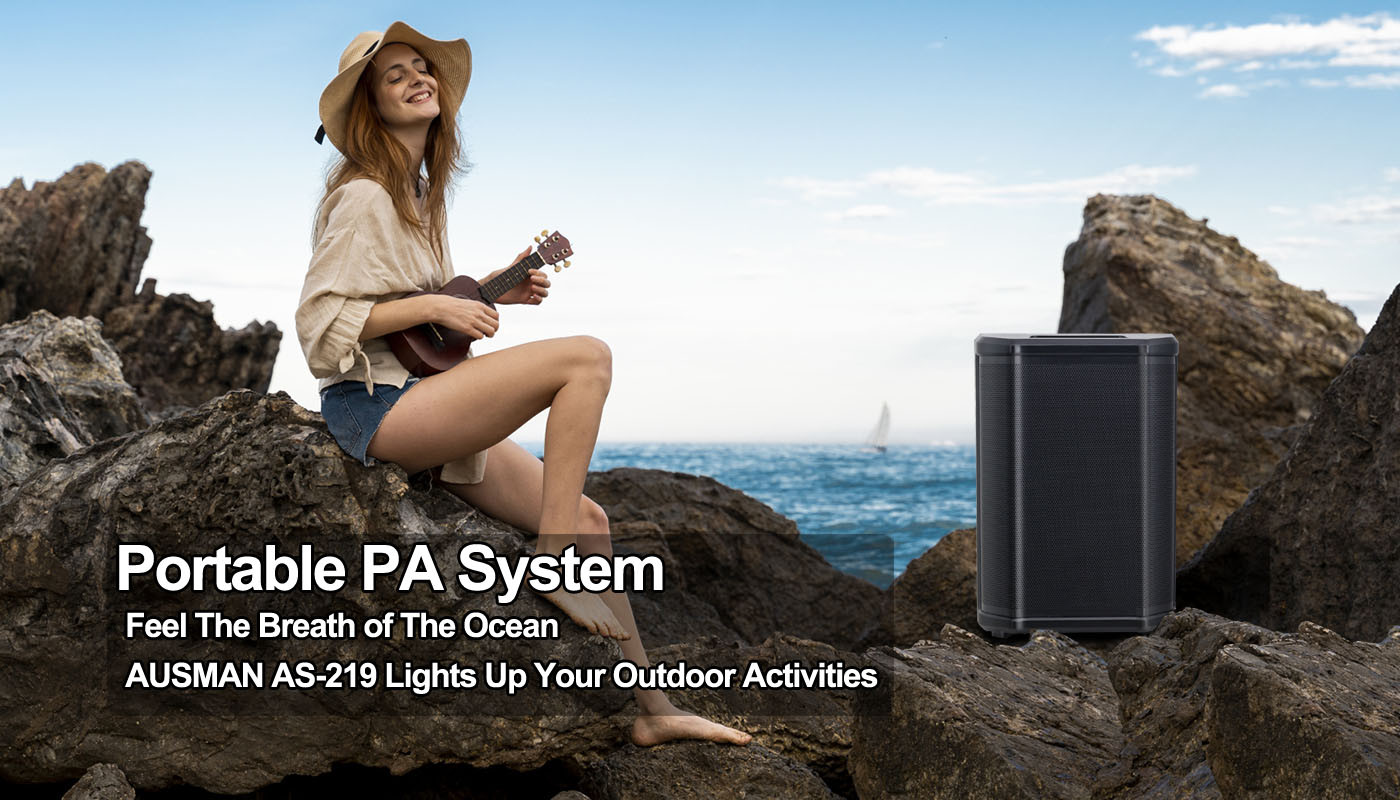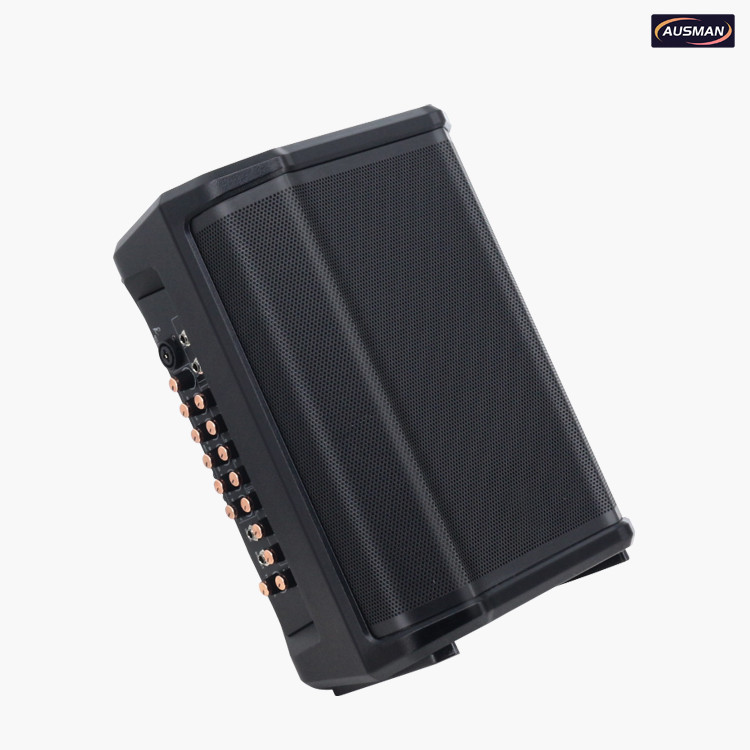 AUSMA AS-219 Takes You Into A New Realm of Music
Thanks to advanced built-in DSP modules and excellent sound solutions.
This system can still reach 150W though the 
bass driver is 
only 8 inches.
Therefore, its sound quality is excellent, and the speaker is clear and brighter.
It has a 180-degree sound field coverage and can provide uniform audio projection in a wide range of areas.
We can adjust it as needed so that the best sound projection angle can be obtained in different locations and occasions.
It will take you into a new realm of music experience.
Durable & Corrosive Plastic ABS Enclosure

The enclosure of the portable pa system AS-219 is made of plastic ABS, and we support two colors for custom: Black and Green.
The advantages of ABS material are strong, corrosion-resistant, strong texture when touching, and good looking.
When you knock on the box, you will hear a sound similar to when hitting MDF.
And the sound response is fast and crisp. Because the ABS hardness is high, it can effectively reduce resonance.
Its shell density formula is a conclusion that we have obtained after many different density shell molding experiments.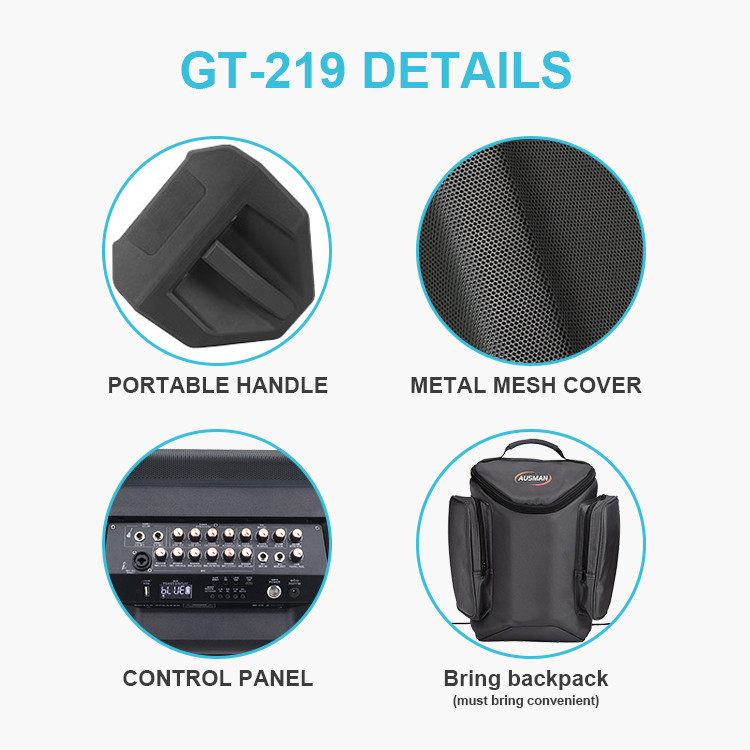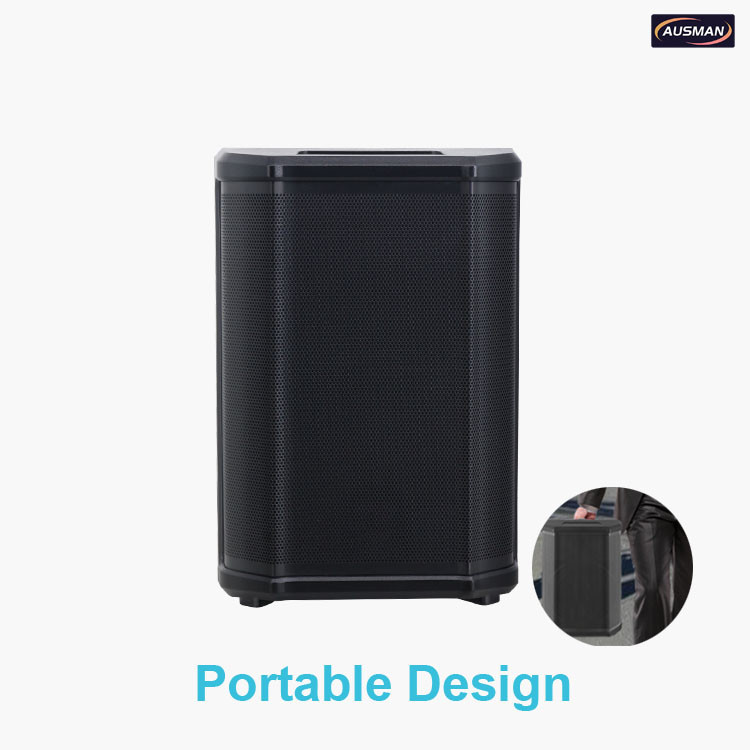 Portable Speaker Box Design

AUSMAN AS-219 has a compact appearance.
Its size is 278*267*394 mm, and it will not take up too much space. We can easily put it in a storage bag or the trunk of the vehicle.
It weighs about 15 pounds and has a portable handle on the top, which can be carried with one hand.
You can easily bring it to various occasions, such as performances, activities, parties, or outdoor activities.
This is very convenient for professional musicians, DJs, or performers who need to move the speakers frequently.
Custom All-in-one Portable PA System with Mixer
AS-219 integrates the basic features of a PA Speaker. It is a small portable all-in-one sound system. 
Thanks to its powerful amplifier board performance, you can easily adjust the volume and sound effects. 
For example, the 
adjustment of 
treble and bass, echo.
It provides ports of XLR/1/4 inch input, two 6.5mm, 
3.5mm 
AUX, mixer input/output, and multiple sound effect adjustment buttons.
So you can easily connect to audio equipment: microphone, guitar, keyboard, etc.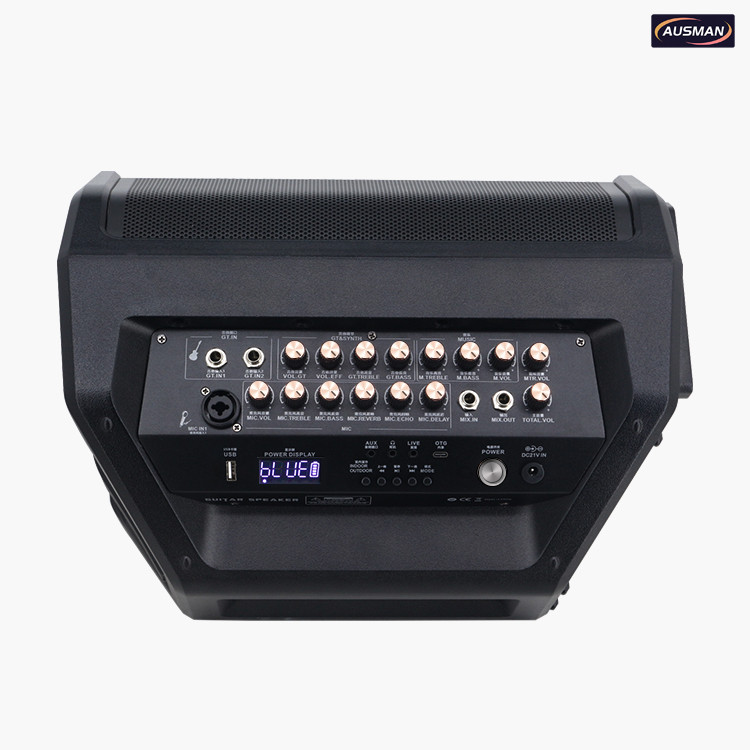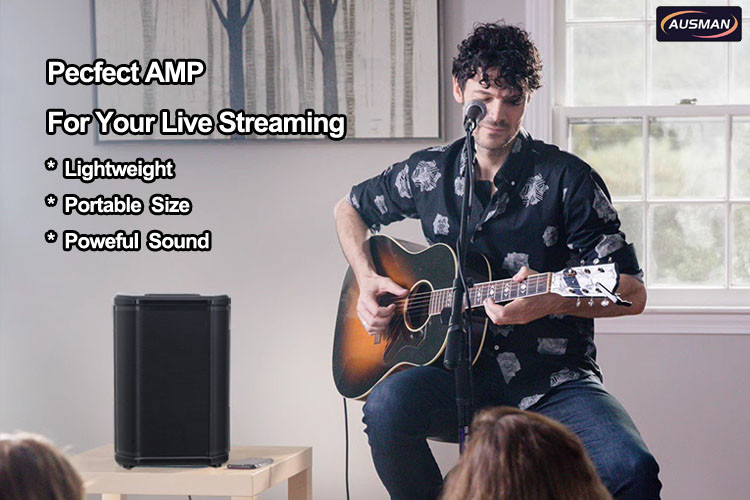 Feature Function: L
ive Streaming
Using AUSMAN AS-219, you can easily build live broadcasts with fans.
You need only one to connect to the mobile phone or other devices, or other devices.
Because it has a built-in battery, you can easily start the live streaming whether it is indoors or outdoors.
Portable Pro PA speaker System with Wireless Bluetooth
Wireless Bluetooth is currently the mainstream function in the market because it is convenient, stable, and low in cost.
The built-in Bluetooth is 
version 
5.0, you can easily connect and play songs with Bluetooth equipment.
In addition to Bluetooth 5.0, manufacturer AUSMAN also offers Bluetooth 4.0/5.1 and other versions.
This depends on your local market for Bluetooth versions.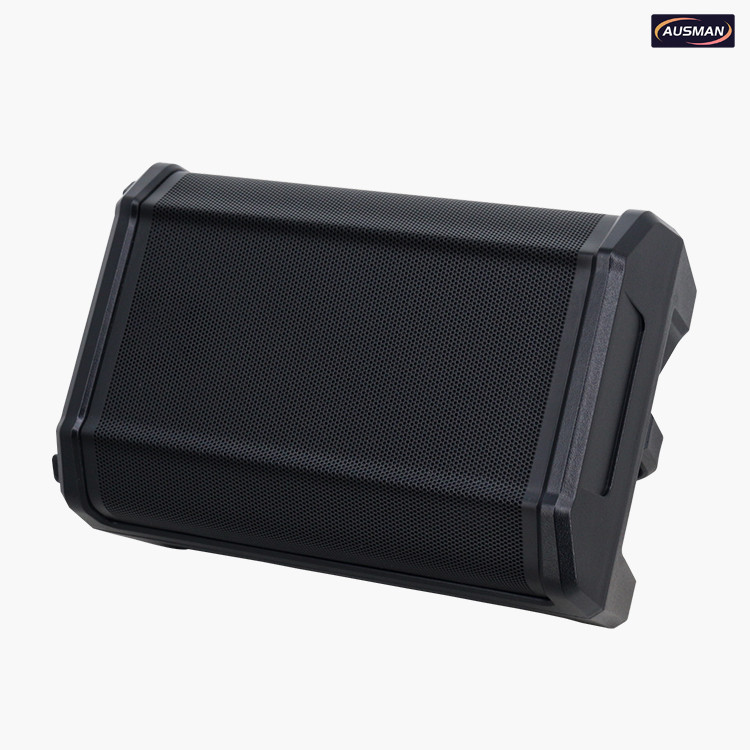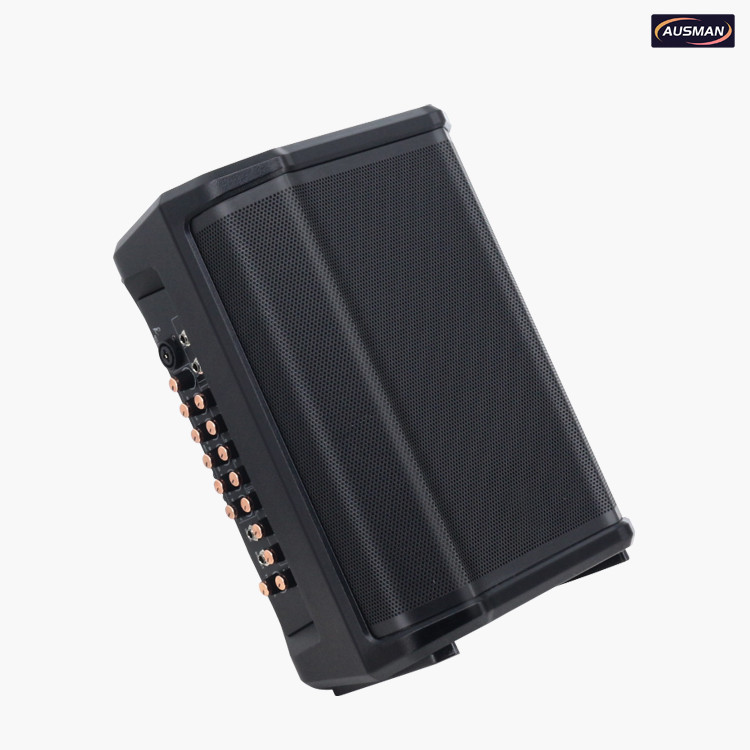 With a built-in large-capacity lithium battery, it can meet continuous playback of 6 hours at a time.
Therefore, it can easily cope with your daily music needs: music appreciation, outdoor parties, street performances, and live broadcasts
Three Placements for Different Scenarios
Method 1: 45 degrees, sound can be spread to a farther place. It's suitable for a conference with many people.
Method 2: Placed on the bracket to play music. We mention two options: metal and plastic tripod.
Method 3: Placed horizontally at 45 degrees. It can provide a shocking live sound to the audience and is mostly used for the stage or performer to hear.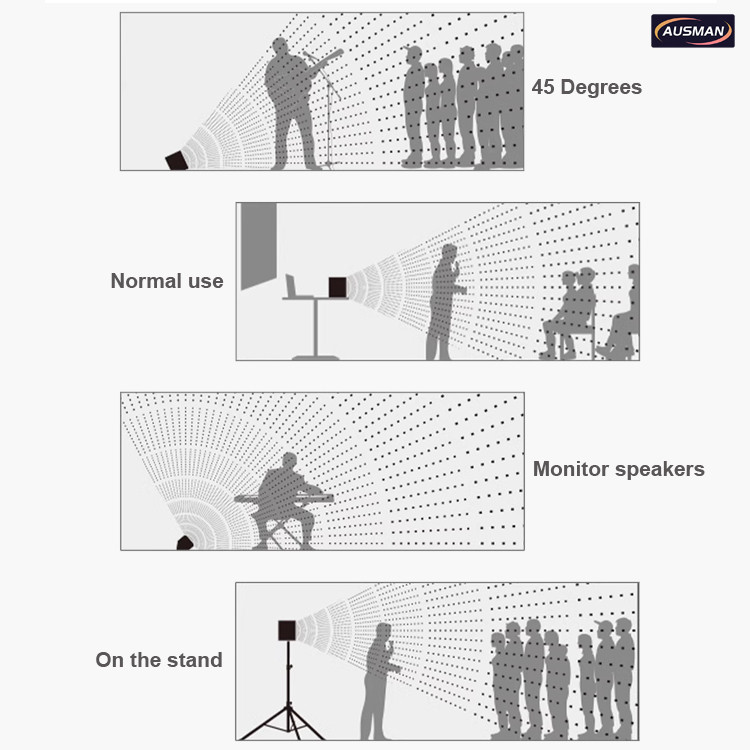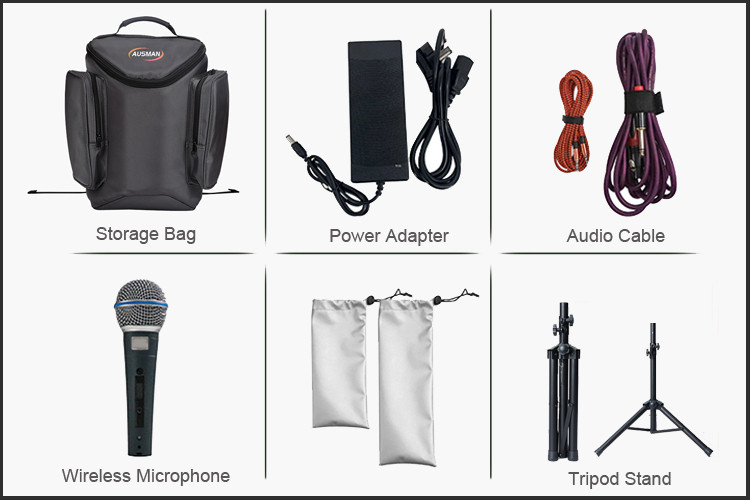 Customized Accessories of AUSMAN PA System
We provide you with customized options for multiple accessories, such as backpacks, microphones, tripods, etc.
We can also put your exclusive brand logo on all your accessories.
Custom the Hot-sell Portable Pro Speaker System of Your Brand

AUSMAN, a manufacturer and wholesaler from China, relies on years of experience and innovation.
We can provide you with a full range of customized options, including shell color, driving unit inch, RMS/PMPO, Bluetooth version and power solution.
At the same time, related accessories such as storage backpacks, stands, etc., can also get a solution here.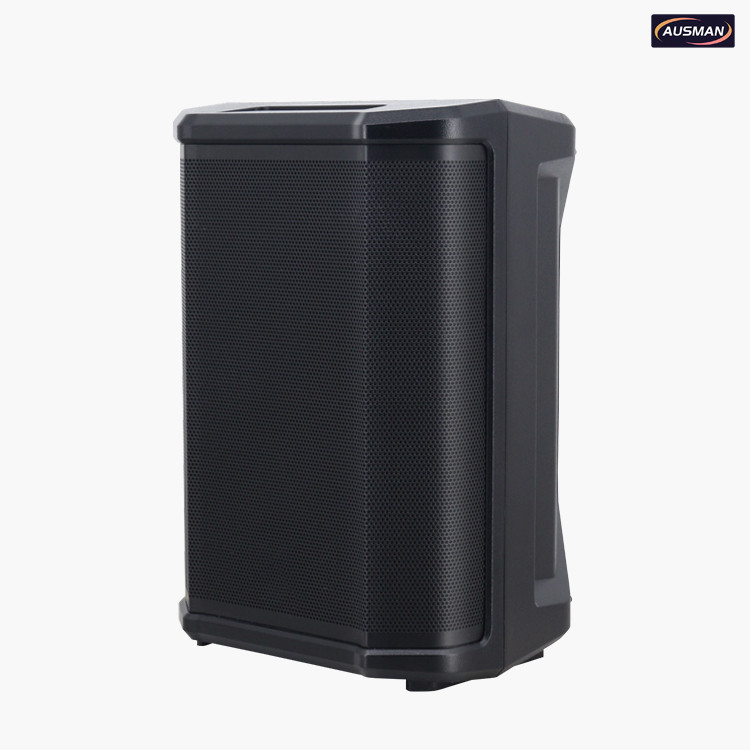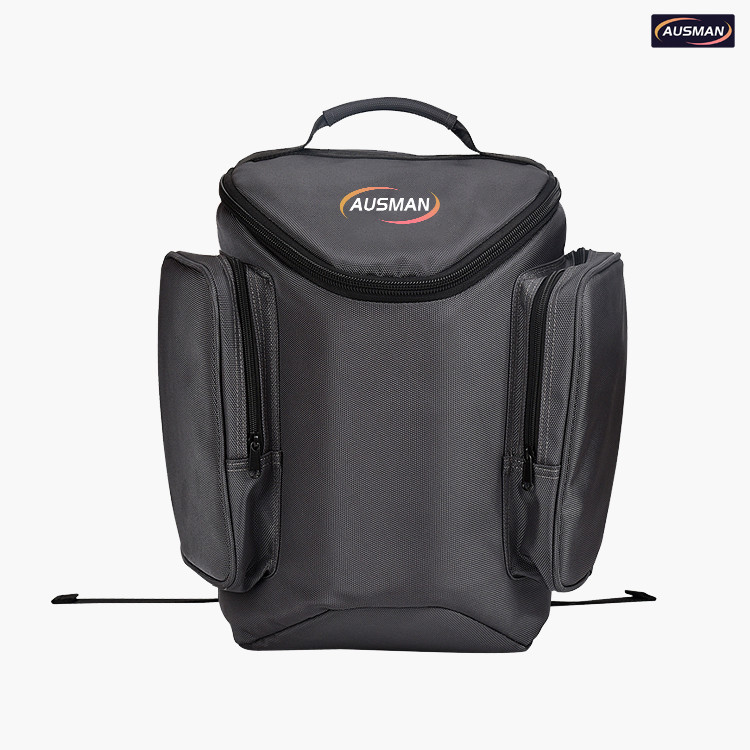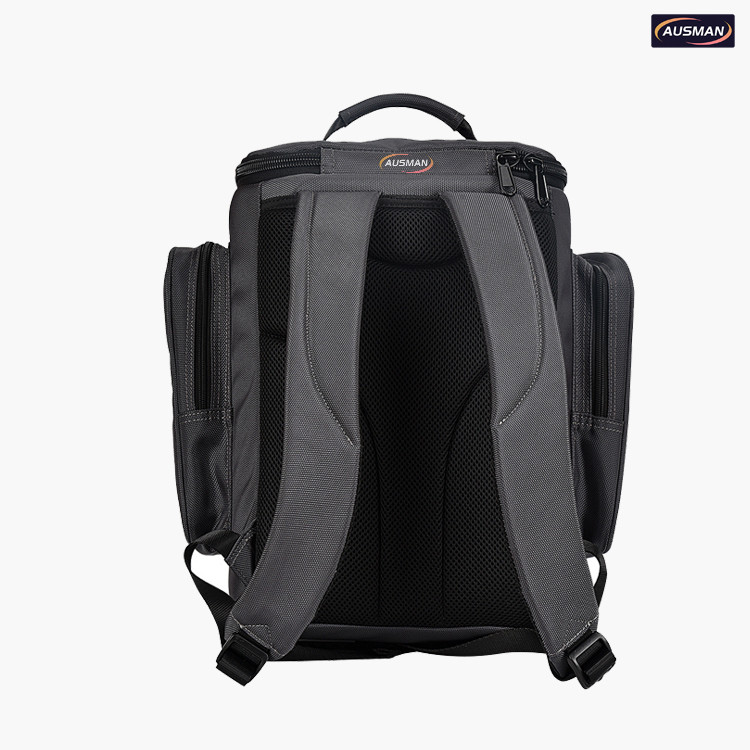 Suggestion: What Is the Best Portable Pro PA Speaker System

Different from the party speakers, the playback effect, applicability, and operability of the portable PA speaker system are more inclined to professional speakers.
Many friends who intend to buy must know what is the best portable PA system.
We don't think there is a definite answer to this. This is related to the factors including individual's cognition level of audio, budget, and usage environment.
But we can still give some useful suggestions, mainly high-quality system reference suggestions.
These suggestions and tips can help you when you make a purchase.
1. Powerful Sound Quality and Sound Projection
The system should deliver clear, balanced sound quality and be capable of strong sound projection over a wide area.
It should have high-quality speakers, amplifiers, and audio processors to ensure that music and speech are heard clearly and audibly in various environments.
2. Adjustable Volume and Audio Controls
The system should have an adjustable volume control so that the volume can be adjusted according to the needs of different occasions.
In addition, it should offer other audio control options such as tone, equalizer, and reverb to adjust according to the requirements of the sound.
3. Various Input Options
Because it is often used in different situations, such as speeches, performances, and parties.
The system should have a variety of input options for connecting a variety of audio sources such as microphones, musical instruments, music players, or mobile devices.
It should support both wired and wireless connections, including Bluetooth, USB, AUX, and XLR.
4. High Portability
It features a lightweight, compact design for easy portability and setup.
It should be equipped with portable features such as a comfortable handle, foldable stand, or wheels to facilitate installation and movement in different occasions.
5. Long-lasting Battery Life
Since they are often used outdoors or in locations without a power source, it should have solid battery life. Long battery life keeps the system running during active periods without frequent recharging.
6. Durability and Protection
The casing is durable, so it can withstand the bumps, vibrations, and accidental bumps of everyday use.
Portable systems are more likely to be used outdoors.
It should also have certain protective properties, such as water, dust, and shock resistance, to protect the components inside the system.
7. Built-in Reverb and Audio Effects
Suppose the system has built-in various audio effects, such as reverb, echo, and delay.
These effects can enhance the expressiveness of music, speech and give performances or speeches a more lively and professional effect.
8. Good Scalability and Connectivity
It should be possible to connect external speakers or additional microphones.
Such a system can be flexibly configured as needed to meet the needs of larger events.
9. Simple Operation Interface
A simple and intuitive operation interface allows users to easily set and adjust system parameters.
The easy-to-use interface and control buttons reduce the user's learning curve and provide a better user experience.
10. Advanced Signal Processing and Protection Mechanisms
The system should have advanced signal processing features such as automatic gain control (AGC), feedback suppression, and limiters.
It optimizes the quality of the audio signal during playback and protects the system from overload and damage.
Summarize
To sum it up, the best portable PA systems should offer excellent sound quality, powerful sound projection, flexible audio controls, multiple input options, portability and ease of use, reliable battery life, and durable housing and protection performance.
These features will ensure that the system can provide high-quality audio performance on various occasions and meet the needs of users.
Whether it is outdoor music performances, public speaking, wedding events or sports games, it can provide users with excellent sound reinforcement solutions.
The above suggestions are not absolute, but they are still useful for most cases.
Reply your inquiry in 24 working hours.(our normal working time:6:00~22:00)

Professional team solves product -related problems for you.

Customized design is available.

Exclusive and unique solution can be provided to our customer by our well-trained and professional engineers and staff.



If the above models are not suitable for your workpiece, please contact us to tell us your needs, then can we send you the most satisfactory answer
Are you looking for professional OEM/ODM speaker manufacturing services? Ausman offers a wide range of speakers and solutions.
Send Your Inquiry ?

Tel:

86-18613169271
Email:
WhatsApp:
Address:

B2 NO.41 Furong Avenue, Huadu District, Guangzhou, China